Please check back for 2021 Race Info
Santa Barbara, Goleta and UCSB Campus
Kendra's Race Sprint Triathlon and 5k run features a scenic course through Santa Barbara, Goleta and the UCSB campus. With an 800 meter ocean swim, flat and fast 13 mile bike around the Santa Barbara airport, and a 5K run along the bluffs near the beach, this is sure to be a race you never forget!  Your registration includes a FREE training plan to prepare you!  Proceeds benefit the UCSB Triathlon Team and the Kendra Chiota Payne Memorial Fund.
Click here for more course details and race-day information.
ABOUT KENDRA'S RACE
In 2006, after the death of their teammate and friend, Kendra Payne, the University of California, Santa Barbara (UCSB) Triathlon Team changed the name of their annual triathlon to Kendra's Race. The race has been held every year since then and each year the UCSB triathlon team generously donates a portion of the entrance fees to the Kendra Chiota Payne Memorial Fund. 
 
WHO IS KENDRA?
Image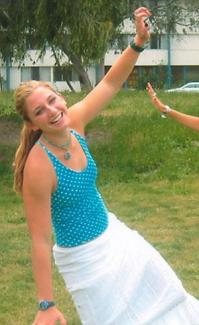 Kendra Payne was a dedicated student, athlete, and world traveler. On January 11, 2006, while on a UCSB triathlon team training ride climbing up Gibraltar Road in Santa Barbara, she was struck by an asphalt truck and killed.
Kendra had an amazing energy and zest for life. She was a global citizen who lived on three continents and visited over 30 countries during her 21-years of life. During high school, Kendra was captain of both her swimming and track & field teams at the Singapore American School (SAS). She participated and was awarded medals annually at this event. In 2006, SAS designated this event as the Kendra Payne Memorial Biathlon, in her memory. Kendra's parents attended this event in December 2010 and November 2011.
At UCSB she became a triathlete and raced in a marathon and numerous triathlons in the US and Australia. Participating in sports was her passion and it was her way of life. It shaped her character and values and gave her self confidence.
Kendra was a colorful individual whose strong athletic abilities were matched by her humility. She encouraged others to believe in themselves and inspired them to go after their heartfelt dreams and goals. Her tenacity and generous spirit continue to live on in all of those touched by her life.
To read more about Kendra and her memorial fund, please visit https://www.kendrachiotapayne.com
KENDRA CHIOTA PAYNE MEMORIAL AWARD
Image

The UCSB Kendra Chiota Payne Memorial Award is awarded to an outstanding UC Santa Barbara student committed to developing and enhancing character and leadership skills in young people through the medium of sport. In thought, word, and deed this individual will embody the spirit and values of Kendra and serve as an exceptional role model and inspiration for all children eager to learn, compete, and grow in harmony with others. 

The Kendra Chiota Payne Leadership for Young Women through Sports Internship shall be awarded to a student who will work with the Assistant Director of Sport Programs to develop programs and activities for local under-served girls to experience the personal growth, leadership and character development, independence and confidence that participation in
sports can bring.
2021 Internship Application will be posted in late 2020

Successful internship candidates for consideration will be:
    • A UCSB student in good standing, with at least a 2.5 GPA, and making normal progress toward degree
    • A respected student with evidence of good character and experience in sport exercise settings
    • An advocate for teamwork, collaboration, fair-play, and the promotion of sound values through sport
    • A representative of the Student Affairs motto of Scholarship, Leadership, and Citizenship

Internship Details
The awardee will work with pre-teen girls as well as be mentored by members of the faculty and management team of the Department of Exercise & Sport Studies and the Department of Recreation. Awardee will receive a stipend for Spring and/or or Summer 2021. Stipend amounts vary but typically range between $1400-$2000. There are typically 2 interns appointed per year. Interns must be available to serve approximately late May thru July 30, 2021. 8-10 hours per week. Exact days/times are somewhat flexible.

Application Procedure
Priority application deadline: March 5, 2021

A complete application consists of:
    • a completed application form
    • an autobiographical essay of no more than two pages
    • a minimum of 1 Letter or Recommendation

All requested materials should be hand delivered to:
UCSB Department of Recreation
Recreation Center Room 2102