Image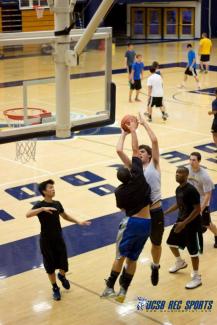 Basketball is a fast paced team sport. It's history goes back to the late 1800's as an alternative physical education activity for New England students during the snowed in winters. It has grown exponentially since then with its highest governing body FIBA developing basketball as a sport and culture internationally. The sport typically involves games of five players versus another group of five players. 
Basketball is offered Fall, Winter, Spring and Summer Quarters through the Recreational Sports Office.
Equipment - Non-Marking Shoes and a Basketball
Cost - $50
NS - $90
Location - Events Center (Thunderdome)
CONTACT
Email: ucsbimbasketball@gmail.com
 
Please check in the Rec Sports Office for quarterly times, league information and sign-ups.
RULES