Image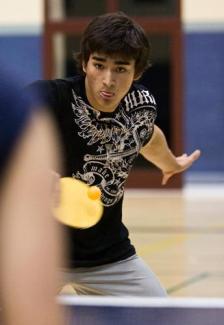 Table Tennis, or Ping Pong, is a miniaturized version of Tennis, and Forrest Gump's favorite sport.Like Tennis, both singles and doubles games are offered.  Players use a paddle, a small racket, to hit a small, lightweight ball over a net. This sport really tests the reaction time and eye-hand coordination of those who play.
Table Tennis is offered every Fall, Winter, and Spring Quarters through the Rec Sports Office.
Equipment - Non-Marking shoes (Paddles and Balls are proved by Rec Sports Staff)
Cost - $15 Singles, $20 Doubles
Location – Pavilion Gym
CONTACT
Bianca Yanez
Email:ucsbtabletennis@gmail.com
 
Please check in the Rec Sports Office for quarterly times and sign-ups.
RULES