Image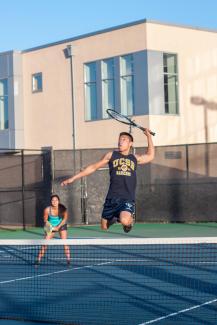 Tennis is a non-contact sport that can be played between two players for a singles match or between two teams of two players for a doubles match.  Matches can be played on hard courts, clay courts, and grass courts.

Tennis is offered every Fall, Winter, Spring, and Summer Quarters through the Rec Sports Office.
Equipment - Non-Marking shoes, Racket, and Tennis Balls
Cost - $15 Singles, $20 Doubles
Location – Rec Cen Tennis Courts
Please check in the Rec Sports Office for quarterly times and sign-ups.
CONTACT
   Email: ucsb.im.tennis@gmail.
RULES