Image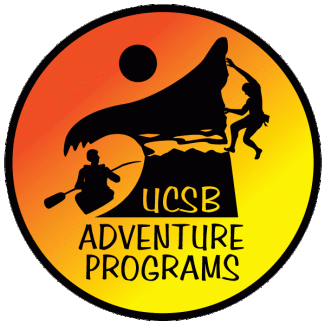 UCSB Adventure Programs are open to everyone - students, staff, faculty, alumni and community members. We are proud to offer our programs at an unbelievable value. Current UCSB Students receive an extra discount thanks to the Rec Sports and Recreation Fee Initiatives. Thank you for investing in your adventures.
Sign ups for all offerings are in the Rec Cen Customer Service Center or online here.

Interested in working for UCSB Adventure Programs? Consider working at the Adventure Climbing Center, Adventure Ropes Course, or joining our Leadership Training Course, a five-month course that gives you the foundation to become an outdoor guide!

Are you a new Gaucho first year or transfer?
Welcome to First Year Outdoor Adventures (FYOA)!

Find us @ucsbadventure on Facebook Instagram  Twitter  
Join our Mailing List. Check out our current Newsletter
Our Mission
UCSB Adventure Programs improves campus and community lives by providing educational and recreational experiences through wilderness trips, outdoor recreation classes, ropes courses, and climbing center programs. 
Our Vision
We are commitment to offering programs which: 
Provide opportunities for self-discovery and leadership
Offer exceptional customer service and professionalism
Cultivate cooperative behavior by respecting and understanding individual differences
Don't require experience - only the desire to participate
Foster continual learning and growth
Teach essential outdoor skills
Encourage challenge within an acceptable level of emotional and physical risk
Are accessible to a wide range of ages and ability levels
Promote wilderness ethics and stewardship, utilizing Leave No Trace principles
UCSB Adventure Programs employees operate using sound judgment and standards set by UCSB and the outdoor industry in addition to professional training and personal experiences.