One-on-One Personal Training
Whether you come to improve your functional strength, lean body mass, cardiorespiratory health, balance, or flexibility, our student and pro-level trainers are here to help you break through to your next level of fitness. UCSB's Nationally Certified Personal Fitness Trainers will help you set goals, track your progress, and recommend evidence-based exercise modalities to minimize plateaus and help you realize your full potential.
 
Sessions take place at various indoor and outdoor sites in the  UCSB Recreation Center based on availability and client needs. 
We offer two levels of Personal Training. All our trainers are Nationally Certified. 
Certified Personal Trainers have up to five years experience training clients. Our hardworking and multiply skilled Certified Trainers are often also students and graduate students at the University level.
Pro-Level Certified Personal Trainers have greater than five years experience training clients. Many are pursuing or have completed graduate level work in Biomechanics and Kinesiology and have garnered years of experience leading group classes in the UCSB Department of Recreation. 

*UCSB Rec Center Membership or day pass required* Community members are considered an invited visitor. Please see the COVID-19 Interim Visitors Protocol. Note, if an invited visitor is not vaccinated they may be asked to show staff a negative test result prior to participation. Click here for current testing requirements. 
To learn how to sign up email findyourfit@recreation.ucsb.edu 
Image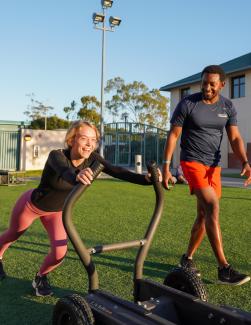 Image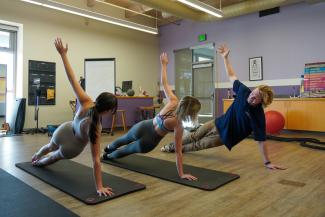 Small Group Personal Training
Got a workout buddy? Let's go! Reach out to findyourfit@recreation.ucsb.edu to find out about pricing and scheduling!
**Each client must be a member of the Rec Cen and complete waivers and health screenings to participate
| | | | |
| --- | --- | --- | --- |
|   | One Session | Five Sessions | Ten Sessions |
| Certified Personal Training | $55 | $250 | $470 |
| Pro-Level Certified Personal Training | $70 | $325 | $600 |