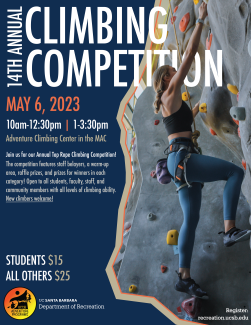 The 14th Annual Climbing Competition (Top Rope) is here! The competition will take place on Saturday, May 6, 2023, from 10 am to 3:30 pm in the Adventure Climbing Center at the UCSB Recreation Center. This competition will feature staff belayers, a warm-up area, snacks, awesome raffle prizes, and awards for the top 3 winners in each bracket! Spectators can watch at no charge.  

Early Bird Registration (Before May 5, 2023)
Students: $15  |  Community: $25

Day of Registration
Students: $20  |  Community: $30

Email adventure@essr.ucsb.edu with any questions.
UCSB Adventure Programs' Annual Top Rope Climbing Competition is open to all students, faculty, staff, and community members who have any level of climbing ability. There will be designated routes for men's and women's divisions with difficulties separated as follows:

Beginner Men's and Women's > 5.7 - 5.10a
Intermediate Men's and Women's > 5.10 - 5.10d
Advanced Men's and Women's > 5.10c - 5.11c
Open > 5.11b - 5.12+
 
Competition Scheduling
10am - 12:30pm
Beginner  |  Intermediate
1pm - 3:30pm 
Advanced |  Open