Based in Southern California, UCSB Adventure Programs' All Terrain Adventure Tower is ready for your next adventure!
Image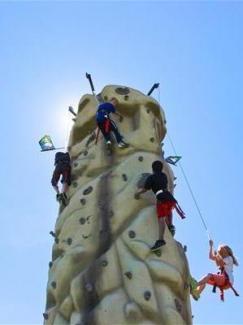 Whether you need to entice customers on opening day, build morale or simply have fun with your company, or celebrate a loved one's birthday or achievement, the All Terrain Adventure Tower is the number one portable climbing wall in Santa Barbara serving Santa Barbara and beyond. Our mobile tower is an impressive 26-foot tall structure with realistic rock features, four simultaneous autobelay climbing stations, and jurassic discoveries. Explore the opportunity to make your next adventure really "rock"!
Contact Us / Reservations
Interested in a climbing adventure coming to you? Please contact us with any questions and reservation requests. We would love to work with you to make your event unforgettable. Give us a call at (805) 893-3737 or email Adventure@Recreation.ucsb.edu
Photo of climber by vdbphotos.com
Perfect For:
School functions, church gatherings, birthday parties, carnivals and fairs, festivals, fundraisers, camps, and corporate events.
Frequently Asked Questions
How much space does the wall need in order to be set up?
The Rock wall is 26' long and 8' wide and is towed by a full size truck or van. Once in place, the tow vehicle is removed and the wall set up is 18' long and 8' wide. We also need a clear area (6'-8') in front of the wall for the climbers to land as they are gently lowered. The rock wall site needs to be level (less than a 3% slope).
What do the dimensions of the mobile climbing wall look like?
Image

How long does it take to set up the wall?
It takes about 20 minutes to set up, once we drive it into place.
How much do you have to weigh to climb?
Climbers must weigh less than 250 pounds. Climbers less than 45 pounds will be equipped with a tagline harness.
 How old do you have to be to climb?
We have no age restrictions for climbing our wall.
What is included in my rental?
All rentals are for a minimum of 2 hours. Price includes the mobile rock wall, trained staff, and all safety equipment. 

Do you have a Certificate of Insurance?

Yes, you can download: 
 How far from Santa Barbara do you travel? 
The mobile climbing tower loves to explore the Western U.S. Contact us to find out discounted rates for travel.
How far in advance should I make a reservation?
Please make reservations at least one month in advance of your event.
We look forward to coming to your next event!