This program introduces participants to aerial arts. Aerial silks, also known as aerial tissue, is a combination of performance, dance, and acrobatics used throughout the world by notable companies, such as Cirque du Soleil. Though common in the field of acrobatics and aerial performance, aerial silks have been taught to performers and athletes, focusing on control and movements of the human body.
The aerial silks courses are designed for those who want to explore new ways of staying fit. This full body workout will not only build forearm, bicep, back, abdominal, and leg strength, but also will increase endurance, cardio strength, and flexibility.
This program is intended to teach introductory skills in the art of aerial silks and performance. Students will be taught basic climbing technique, single and double foot tie-ins, inversions, basing, and simple drops. Students will learn positions such as Arabesque, Double Maypole, and Half-Buddha.
This class perfects moves learned in Aerial I, adds new skills, and builds the strength required to graduate to Aerial 2. Perfect, finesse, and advance your silk repertoire in this course.
Prerequisites: ability to perform a single foot-lock from the air, double foot-lock, and ability to climb until feet are 4 feet from the ground. Familiarity with moves such as Maypole/Candy cane, Crane, Buddha, and arm wrap inversions are highly recommended.
Image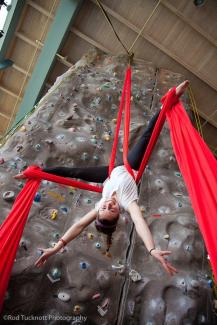 This course is designed to build upon the introductory skills learned in the Aerial I and 1.5 classes. Students will be taught a variety of climbing techniques and descent positions, the aerial dance wrap tie-in, inversions in the air, variations on known moves, and beginning drops. This course will dedicate a portion of each class to the flexibility and strength conditioning aspects that will be required to learn more complex moves and wraps. It will also focus on movement control on the fabrics and transitions between static positions.
Prerequisites: ability to perform a straddle inversion in the air, hip-key in the air, cross-back straddle, and perform 3 moves in a row that alternate between foot-locks (i.e. single foot move, double foot move, back to single foot or non-tie in move). Instructor approval is highly recommended before enrolling, as a skills assessment will occur on the first day of class. Ability to pass this assessment is mandatory for continued enrollment in Aerial II. Participants skipping Aerial 1 and 1.5 are encouraged to contact mason.bouchet@recreation.ucsb.edu before enrolling.
Aerial hoop, also known as lyra, is a combination of performance, dance, and acrobatics. Similar to trapeze, the lyra is a solid apparatus, but shaped like a circle. This program is intended to teach introductory skills in the art of aerial hoop. Students will be taught the basics of mounting the hoop, inversions, various poses, and transitions.
This course is designed for those who are looking for something to supplement their workout. In what could be thought of as a cross-fit program for aerial silks, students will work through a variety of movement activities focusing on building the strength and endurance required by more challenging aerial silks positions. The program will target core strength, bodily awareness, flexibility, and endurance. Prior aerial experience is not required.
Perhaps you were thinking of taking the Aerial Silks 8-week course? This 2 hour intensive clinic is designed to give you a strong introduction to this incredible sport. It is also a good way to get a feel for the sport without the full time commitment. Although there is no prerequisite, those with more upper body strength and overall flexibility will have an advantage.
An Adventure Climbing Center waiver will need to be filled out and signed before participating.
For more information, please contact us (805) 893-3737 or email us at adventure@recreation.ucsb.edu