The Surf & Kayak Camp will take place at UCSB's Campus Point and will include surfing instruction, kayak instruction, beach activities and environmental education. This camp is designed to encourage marine interaction through recreation and education. This is a unique opportunity for kids to learn about, respect and enjoy the resources our coast provides.
UCSB Surf & Kayak Camp and UCSB Jr Lifeguards are the only youth programs authorized to use UCSB Campus Pt. and our staff consists of Certified Lifeguards with ocean rescue training. 
Due to the inherent risk involved with ocean activities, this camp is best suited to responsible children with strong swimming skills.
Registration Information
You can register for the Surf & Kayak Camp online or in person at the Recreation Customer Service Center (CSC). Sessions do sell out so be sure to check this page for session availability. Due to COVID-19 precautions and limited capacity this summer, walk-up registration will NOT be available. The CSC is open Monday—Friday 8:30am – 7pm.
Please fill out the Consent to Treat Form that is linked in your registration confirmation, prior to your child's participation in the program.
Camp is open to youth ages 9-15.
2022 Session Dates
Session 1  |  June 20-24
Session 2  |  June 27-July 1
Session 3 |  July 5-8*
Session 4 |  July 11-15
Session 5  |  July 18-22
Session 6  |  July 25-29
Session 7  |  August 1-5
Session 8  |  August 8-12
Activities
Activities will vary depending on weather, tide and wind conditions.
Ocean Activities: surfing, kayaking, stand-up-paddling, bodyboarding, swimming, paddleboarding and snorkeling.
Beach Activities: volleyball, tug-o-war, tidepooling, smashball, relay races, environmental education, capture the chicken, beach flags, sand castle building and visits to the UCSB Marine Science Institute touch tanks.
Activities will vary depending on weather, tide and wind conditions. Lifeguards are on duty at all times.
What We Provide 
We will provide: soft beginner surfboards, kayaks (paddles, life vests, helmets), boogie boards, volleyballs soccer balls, kick balls, masks & snorkels, tarps for shade, various beach games, first aid, surf & kayak instruction, extra sunscreen. A camp rash guard is now required for all campers.
We provide a limited number of surf boards and boogie boards. Campers will sign up for boards and we will switch boards periodically. If you would like to bring your own surf/boogie board, make sure it has a leash (surfboards especially), and please mark it with your name. We will not be able to provide storage for personal equipment.
As with surfing, campers will sign up for kayaks and 2 to 3 groups will go out daily with an instructor.
This is our 25th year of camp, and the format works well. There are always plenty of equipment, activities, and happy campers.
What You Should Bring
Sun protection (sunscreen, hat, sunglasses, etc.), full water bottle, warm clothes, towel, lunch and/or snacks, backpack.
Optional personal equipment: wetsuit, surfboard, boogie board, aqua socks, swim fins, goggles. It can get cold so a "shortie" wetsuit is recommended but not required. Wetsuits can be found at local surf shops as well as stores such as Costco, Big 5. You can inquire about renting wetsuits from SCUBA diving shops.
Please do not bring: electronic equipment (tablet, etc.).
Program Location
The Surf & Kayak Camp is based at Campus Point on the UCSB Campus. Campus Point is located at the end of Lagoon Road. Drop-off and pick-up area located at the grassy area at the end of Lagoon Rd.
There are a few community parking spots (20) available in Parking Lot 6 (look for signs that read Coastal Access). Coastal Access spots have a 4-hour time limit and you must buy a parking pass from the automated machine in the lot.
Our counselors will be on the grassy area across from lot 6 from 12:30 pm – 1 pm for check-in and from 4:30 – 5 pm for check-out. For purposes of letting children in and out of your car you would not need to buy a parking pass, just be sure to have a parking pass should you decide to park and walk away from your vehicle.
DO NOT drive down past the Marine Science building to drop off your campers or park in lot 6 without buying a permit as you will very likely be ticketed.
Surf & Kayak Staff
All counselors are certified Red Cross lifeguards, including CPR and first aid and additional Ocean Rescue training.
2022 Fees
$175 per week
Session 3 is pro-rated to $140 due to the 4th of July holiday (no camp on July 4th)
Combo with UCSB Summer Day Camp = $300 ($240 for session 3)
Combo Campers will begin their day at the UCSB Summer Day Camp and then join the Surf and Kayak Camp in the afternoon.
Plus a one time $30 fee for a 2022 camp rash guard. Sizes include Youth M & L and Adult S, M, L, & XL.
(Available when your child arrives at camp.)
Image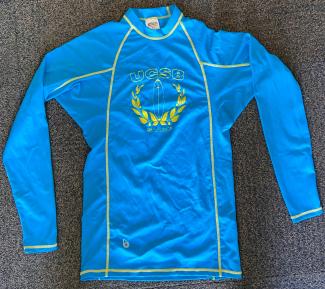 Late Pick Up Fee
Parents who pick up campers after 5pm will incur a late pick-up fee of $10 for every 15 minutes late.
Emergency Contact
Main camp office first at (805) 893-3913.
In cases of "emergency only" when other options are unavailable you may call the Rec Cen Lifeguard Office at (805) 893-7213. This line is not to be used for general questions regarding registration or camp info.