Welcome to the underwater adventure! UCSB is located in one of the premier diving locations on the California coast. Dives in the Channel Islands National Park are rich with marine life, kelp forests and make for world-class dive sites. Our instructors are highly respected in the local area for their style and extensive years of teaching. They have over 90 years combined experience! If you want your introduction to the magnificent underwater world to be an incredible experience, then please join one of our classes!
SCUBA I - Open Water Certification
Image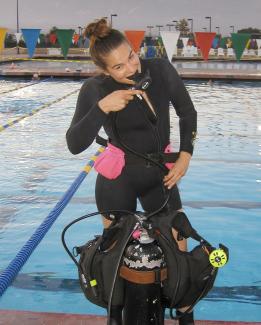 This class is designed for people with no diving experience. Upon satisfactory completion of the course, participants will receive an Open Water SCUBA certification card from an internationally recognized agency.

In addition to the on-campus instruction, there will be five ocean dives (one skin dive and four SCUBA dives) that will be scheduled on a weekend at the end of classroom/pool sessions. KEEP YOUR WEEKENDS AVAILABLE NEAR THE END OF CLASS AND AFTER CLASS. Open water dives are traditionally after your sessions in the pool. Your instructor will tell you the schedule in the first class.
Read the SCUBA Course Info regarding your equipment needs before you sign up for the class. A completed SCUBA Medical History Form is needed before you register for the class. These forms can be downloaded or picked up in the Customer Service Center in the Rec Cen.

Click here for SCUBA Schedule & Registration fee
PREREQUISITES & REQUIREMENTS FOR CERTIFICATION
At least 18 years old (or 16-17 y/o currently registered UCSB Student)
Read, Speak, Understand fluent English
Pass a swimming proficiency exam the first night of class:

300 yards (12 pool widths) in less than ten minutes
Swim 25 yards underwater on one initial breath
20 min. tread water / survival float.
100% Attendance to all lectures, pool training, ocean dives
Pass written exam
Demonstrate competent dive skills in the pool and ocean 
FEES & ADDITIONAL EXPENSES
Budget for ALL fees prior to registration:
Course Registration Fee (includes instruction, weights, tanks, air, buoyancy compensator device (BCD), regulators and wetsuits for ocean diving): $119/$159 (UCSB Students/ All Others)
Personal equipment (SCUBA quality mask, fins, snorkel, booties, gloves) variable based on selection: $500-$600+
Books, student materials, certification card, etc.: $125
Boat check out dive to the beautiful Channel Islands: $170-$180
Day Use Parking for Beach Dive, air fill on boat, boat crew tip: $20-30
Downloads
SCUBA II - Advanced Diver Certification
The Advanced SCUBA Diver course allows students to experience a wider range of diving adventures than the SCUBA I course, all under the supervision of a professional instructor. Advanced certification will allow divers to go deeper, feel more confident about their skills, and do more on their own after successfully completing the course. This class is the next step for students with basic SCUBA certification who wish to try more specialized training in the future, such as wreck or cave diving, for those considering work as a Divemaster or dive instructor, or for divers simply interested in honing their underwater skills.
The first session will meet in a UCSB Rec Cen classroom to review important SCUBA topics and class logistics. We will then move to the Rec Cen pool for basic SCUBA skills review and games. Five specialty ocean dives will follow on weekends soon after the pool session - two dives from a local beach and three dives from a boat at the spectacular Channel Islands.
Students will need to provide their own mask, snorkel, booties, fins, gloves, dive light, and dive knife/cutting tool. SCUBA units (tank, BC, Regulator, weight) will be provided for the pool session. SCUBA units can be rented at a discounted price for ocean dives. In addition to the registration fee, course costs will be an additional boat fee, certification fees, and optional SCUBA unit rental fees.
SCUBA III - Nitrox (Enriched Air) Diver
Image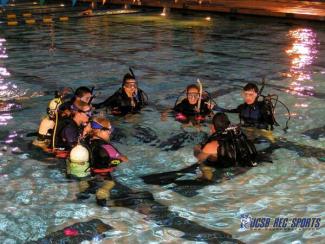 If you want longer no-decompression dive times and/or shorter surface intervals, Nitrox diving is for you! After successful completion of this course, consisting of two classroom sessions with no in-water component, you will receive Enriched Air Diver certification. The course provides the information and specialty equipment practice necessary to effectively utilize Enriched Air (AKA Nitrox, EAN, EANx) as a breathing medium for SCUBA diving. Nitrox training is one of the most popular specialty SCUBA classes following Basic Open Water certification worldwide. Course topics include managing Oxygen exposure, analyzing Nitrox gas, using Nitrox specific dive tables, equipment labeling, and maintenance requirements.
Downloads