Image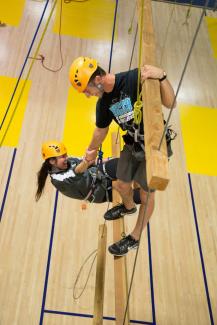 UCSB Adventure Programs proudly invites you to traverse our indoor Ropes Course! Each course is hand-tailored to fit the needs of your group. This jungle gym experience challenges both the mind and the body through a series of "low course" and "high course" activities. Low course games are great for team-building while emphasizing problem solving, goal-setting, communication, trust, and of course fun! The high course introduces our high-flying, rope-swinging adventures as participants suit up in harnesses and take on elements such as our climbing walls, tarzan swing, wobbly rope bridge, giant's ladder, and zip line! Our course includes features for adventurers of all ages and skill levels.
We offer courses for all types of events including birthday parties, corporate retreats, camps, school field trips, employee bonding, family reunions, and pretty much anything you can think up. Conquer your fear of heights or simply embrace your love of them, all while having a blast and building a sense of team belonging and community. For more information or to reserve an Adventure Ropes Course, email ropes@recreation.ucsb.edu or call (805) 893-3737.
Standard 3-Hour Ropes Adventure
Each course is hand-tailored to your group. The typical layout is a 3-hour adventure.
The first half consists of Low Course games on the ground that can focus on whatever your group wants to get out of the course (i.e. team-building, goal-setting, trust, or just plain old fun!). Typically this is about an hour.
The second half consists of the High Course where we suit everyone up in harnesses and put them up on our elements including 2 Rock Climbing Walls, Rope Bridge, Zip Line, Tarzan Swing and more!
Check out a few photos on our Facebook Page here.
We have a maximum weight limit of 250lbs. We recommend 15-30 participants but there is no specific minimum or maximum. Larger groups, however, will need to be split to accommodate size.
Costs range from $25 to $35 per person depending on the nature of your group. Ask us about discounts for UCSB Student Groups and Non-Profit Organizations!
We typically book courses on:
Thursdays 7-10pm
Fridays and Saturdays 9am-12pm
Sundays 2:30-5:30pm
We can sometimes accommodate alternate requests if none of those time slots work for you. However, we do share the indoor gym with other UCSB programs, clubs, and teams and do not always have access to the course. We can request days and times outside the above mentioned range but it is not guaranteed.
For more information or to reserve an Adventure Ropes Course, email ropes@recreation.ucsb.edu or call (805) 893-3737.
Image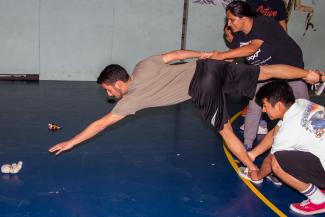 Image