UCSB Campus Point - Junior Lifeguards offers children ages 8-17 the opportunity to learn and train with lifeguards. Jr Guards is more than just a summer camp, participants will gain a wide variety of skills, knowledge, and valuable experience which builds self-confidence and skills for life. Programs take place at UCSB's beautiful Campus Point.
Jr. Lifeguards
Program topics include oceanography, first aid, CPR, water rescue techniques, mutual cooperation, competition techniques, and lifesaving methods. Our Instructors are a mix of local teachers and college students with many years of lifeguarding experience and Jr. Guard (JG) program participation. Program staff provides a fun and safe aquatic education to UCSB JG participants. 
Image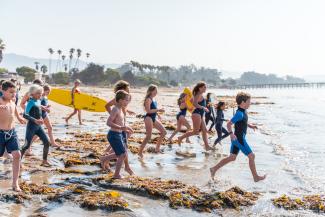 Registration Information
Monday — Friday: 8:30 am – 12:30 pm
Session 1
Monday, June 26 – Friday, July 21*
(No camp on Tuesday, July 4)

Session 2
Monday, July 24 – Thursday, August 17
Rookie Days
Thursday, June 22 & Friday, June 23, 10 am – Noon 
No charge for first-time participants
$40 for Return JG's
Participant Tryouts
Returning program participants from 2022 do not need to try out before registering.
New participants need to attend one of the try-out dates before or after registering:
Saturday April 22, 12 - 1:30pm Campus Pool
Sunday May 21, 12 - 1:30pm Campus Pool
Saturday June 10, 12 - 1:30pm Campus Pool
**Assistant Tryouts:
Saturday April 22, 1:45 - 3pm Campus Pool
Sunday May 21, 1:45 - 3pm Campus Pool
**All JG Assistant applicants must contact Ryan "Buzz" Collins prior to tryout date.
Uniforms
Uniforms are required. The uniform consists of solid navy blue trunks, jammers, or swimsuits worn with UCSB JG's T-shirt and/or a UCSB Blue & Gold Rash Guard. We provide every participant with 1 Short Sleeved shirt included in registration. Additional t-shirts, long-sleeved Tees, sweatshirts, and rash guards may be purchased on the first three days of each session at the Recreation Center Customer Service Center. Navy blue uniforms can be purchased locally at Surf Country for a 10% discount when you show them your UCSB JG registration.
Junior Lifeguards Uniform Options & Pricing
Contact
Customer Service Center
(805) 893-3738

Program Director
rcollins@ucsb.edu
(805) 893-7616

Main Camp Office
(805) 893-3913

Emergency Contact
Contact the main camp office first at (805) 893-3913. In cases of "emergency only" when other options are unavailable you may call the Rec Cen Lifeguard Office at (805) 893-7213. This line is not to be used for general questions regarding registration or camp information.