Image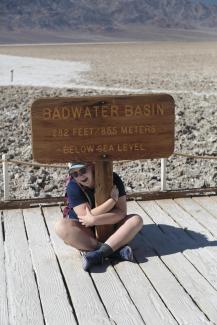 Image
"In this below-sea-level basin, steady drought and record summer heat make Death Valley a land of extremes. Yet, each extreme has a striking contrast. Towering peaks are frosted with winter snow. Rare rainstorms bring vast fields of wildflowers. Lush oases harbor tiny fish and refuge for wildlife and humans. Despite its morbid name, a great diversity of life survives in Death Valley." – National Parks website.
We will enjoy a number of the incredible sites by day hiking from our car-camping style campsites. Weather permitting; hikes range from interpretative nature walks to potentially some more challenging peak hikes which can be up to 6-8 miles one way with a significant elevation gain/loss. Fees include transportation, camping, permits, and all breakfasts and dinners while camping. Meets 2 pm of first day.
Itineraries are always tentative, weather permitting, participation is cooperative!
The fee includes round-trip transportation, breakfasts and dinners while camping, camping fees, permit fees and group equipment. You must supply your own lunches, snacks, $ for road meals, and personal equipment (including sleeping bag, pad, backpack, tent - rentals are available while supplies last.)
Prerequisite: Hearty beginner in good physical condition.
To be placed on the waitlist for any of our full trips or classes please email donald.wise@recreation.ucsb.edu
Be sure to include
The exact name and date of the trip or class for which you would like to be waitlisted
Your Name
Your contact info including email and phone
Click here for dates, cost, & registration! 
Downloads
Please Download, Fill Out, and Turn In:
Image