Image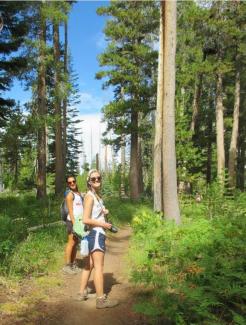 Image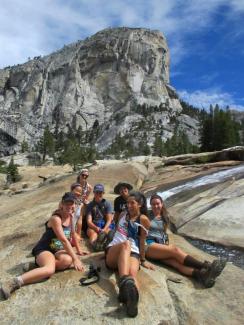 Yosemite Valley is just one small aspect of this magnificent National Park. For those of you who like to throw on a backpack and get away from civilization, this is your chance to do it and see some beautiful backcountry at the same time. Your final destination will be Little Yosemite Valley.
We'll spend our first night camping in the main valley and begin your incredible journey in the morning. We'll wind our way up the John Muir Trail towards Little Yosemite Valley, passing magnificent Vernal and Nevada Falls along the way. We will then set up our camp in Little Yosemite Valley. The next morning we will make an attempt (conditions allowing) to ascend Clouds Rest. Finally on the last morning we're up and back on the trail, heading towards the van and heading home. Yosemite backcountry is lovely but it can be cold, wet and snowy if storms come in. Therefore, you will need good boots, warm clothes (not cotton), a warm sleeping bag (25° or below), and a tent. Having an enjoyable time is closely related to how well you are equipped. Remember, the main goal is to have a good time. You can rent some gear if you need a sleeping bag, backpack, etc. 
The fee includes round trip transportation, breakfasts and dinners while camping, camping fees, park entrance fees, permit fees and group cooking equipment. You must supply your own lunches and personal clothing and equipment. This trip requires that you be in good physical condition. Aside from carrying your own personal equipment, each person will be responsible for carrying some group food and group equipment.
Prerequisite: Good physical condition. Good attitude. Hearty Beginners and Experienced Backpackers welcome!
Click here for dates, cost, & registration!
To be placed on the waitlist for any of our full trips or classes please email donald.wise@recreation.ucsb.edu
Be sure to include
The exact name and date of the trip or class for which you would like to be waitlisted
Your Name
Your contact info including email and phone
Downloads
Please Download, Fill Out, and Turn In: