Rec Cen Pools Project Update 
Anticipated Opening: June 20, 2023 (Subject to change.) 
For Summer Pool Schedule, visit our Hours page.
Overview
Make a splash at the UCSB Recreation Center's pools! UCSB Recreation proudly hosts four aquatic facilities: a campus pool, small pool, large pool, and spa. Enjoy a wide range of programs and services, from SCUBA and swim lessons to log rolling and youth camps, open to both youth and adults. Whether individuals are seeking to hone their skills, pick up some new ones, or simply go for a lap, join us at UCSB Aquatics!

Pool use requires a Recreation Center Membership.
Standard Hours
Monday – Friday: 6:30 am - 8 pm
Saturday & Sunday: 9 am - 8 pm

See Recreation Center Hours for closures and reduced hours.

 
Announcements
WE DO NOT ALLOW DIAPERS OR SWIM DIAPERS IN THE POOLS. If your child is not fully "potty-trained" do not bring them into the pools.
One breath, One length*, One time. (*25 yds or less) We enforce a "no prolonged breath-holding" policy in our pools. We do not allow hyperventilating repeated breath-holding (static or while swimming), or hypoxic training.
Instructor: Staff  |  Quarterly & Monthly Passes Available 

Gaucho Masters is committed to helping increase the physical fitness of swimmers at all levels from novice swimmers to highly competitive swimmers, triathletes, and open water swimmers. We offer a structured workout program that meets the needs of a fitness swimmer, multi-sport athlete, or competitive swimmer. Improve your efficiency, stroke technique and endurance to make your swimming experience more successful. Come join us in the pool!

Please note**This is NOT a learn-to-swim program, you should have prior formal swimming experience.
 
Welcome to the underwater adventure! UCSB is located in one of the premier diving locations on the California coast. Dives in the Channel Islands National Park are rich with marine life, kelp forests and make for world-class dive sites. Our instructors are highly respected in the local area for their style and extensive years of teaching. They have over 90 years combined experience!

Learn more about SCUBA offerings
Learn to swim or refine your skills in eight 30 minute lessons, available both one-on-one and in group settings. Group swim lessons will be limited to 5 students per beginner or intermediate group and 6 for advanced. 

Adult Swim Lesson - Beginner
For adults new to swimming, this course introduces basic swim skills focusing on feeling more comfortable in a pool, breath control, floating, and forward movement in the water. We'll work on coordination for swimming on front and back as well as using equipment such as kickboards and swim fins.

Adult Swim Lesson - Intermediate
For adults that are comfortable in the water, can swim freestyle, breaststroke, or backstroke continuously for 50 yards. The focus of Intermediate swimming is to build proficiency in freestyle (including side-breathing & flip turns), backstroke & breaststroke. Butterfly will be introduced based on skill level and demand of the group.

Adult Swim Lesson - Advanced
For adults that are proficient in freestyle, breaststroke, and backstroke and looking to learn or improve on Butterfly. The focus of Advanced swimming is to offer more stroke refinement & efficiency while building endurance for a swim workout.
Our swim lesson program follows the American Red Cross progressive swimming level model which ensures swimmers gain valuable skills for confidence in the water. We offer private and small group lessons. Group lessons are age and level-dependent. 

Learn more about our Youth Swim Lessons
Instructor: Debbie Miles-Dutton

A water workout designed to enhance cardiovascular fitness and muscular strength. This challenging class, set to music, is for participants of all fitness levels and swimming abilities. Join us in the pool and enjoy the many benefits the water environment offers.
Image

Lap swimming lanes are available 97 hours per week. 28 Short Course Lanes are available most of the day.
Image

The Variable Speed Drive motors that operate the Pool circulation system are programmed to run at lower RPMs overnight to save energy and money.
Image

The small pool was struck by lightning in Fall 2015 (no one was present, whew!) and caused two areas of damage to pool plaster. That is why we close the pools, spa, and showers during electrical storms.
Image

The Large and the Small Pools were originally opened in 1994 and were fully remodeled in 2009. Pools were drained, re-plastered and lighting rewired. The concrete decks were fully rebuilt.
Image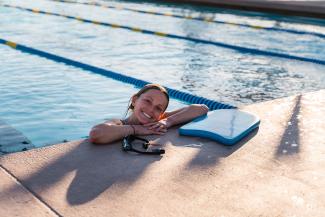 Want the best job on campus with a group of fun, outdoor loving lifeguards and swim instructors? Come join the UCSB Aquatics team at the Recreation center aquatics complex. Open positions include Lifeguards, Swim Instructors, Pool Instructors, Pool Maintenance Staff, Jr. Lifeguards, and Surf & Kayak Camp Instructors. Join the team!
50-meter x 25-yard
Diving Tank with one 1-meter and one 3-meter diving board.
Temp = ~80°
50-meter x 25-yard x 30-meter "L" pool
Diving Well features one 1-meter and one 3-meter diving boards
Long Course = 8 lanes
Short Course = 26 lanes
ADA Lift
Min Depth = 4'
Max Depth = 17'
Pool temp = ~80°
25-yard pool with attached 0-3 foot depth teaching area
ADA access ramp
ADA Lift
Short Course = 9 lanes
Min Depth = 2.5'
Max Depth = 4'
Temp = ~82°
Capacity = 17
Temp = ~102°
ADA Lift