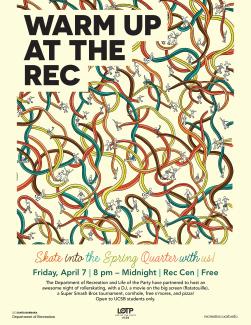 Friday, April 7  |  8 pm – Midnight
Rec Cen MAC & Courtyard
The Department of Recreation and Life of the Party have partnered to host an awesome night of rollerskating, DJ, a movie on the big screen, Esports party games, a Super Smash Bros tournament, and free s'mores, popcorn, and pizza! Open to UCSB students only. Jam out and skate into the Spring Quarter with us!
Image