Overview
Esports are a free and fun way to compete with friends and fellow students. We currently offer a variety of games so there is something for every kind of player.
Esports
Esports are a fun way to game with others. Skill levels range from novice to intermediate to advanced and everyone, regardless of experience, is welcome. Want to start a team with all your friends? FIFA has no roster size limits. Prefer playing on your own? Games like Super Smash Bros Ultimate and MarioKart offer a more competitive experience for the individual gamer.
Image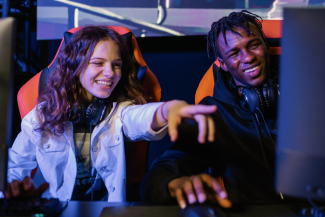 Esports Prices & Roster Limits
 
 

Sport

 

Price per team
(student/general)
 

Roster Limits

Rules

 
 
 
 
 
 

Image

 
Guilty Gear Strive
$0/$15
Max: 1
Min: 1
 
 
 
 
 
 

---

 

Image

 
League of Legends
$0/$15
Max: 7
Min: 5
 
 
 
 
 
 

 

---

 

Image

 
MarioKart 8 Deluxe
$0/$15
Max: 1
Min: 1
Rules
 
 
 
 
 
 

---

 

Image

 
Melty Blood: Type Lumina (PC)
$0/$15
Max: 1
Min: 1
Rules
 
 
 
 
 
 

 

---

 

Image

 
Super Smash Bros Ultimate
$0/$15
Max: 1
Min: 1
 
 
 
 
 
 

---

 
League Types
 

Type

Details

 
 
 

Coed

Leagues that require a minimum number of males or females at all times.

 

---

 

Open

Leagues that do not have any restrictions on gender participation.

 

---

 

Women

Leagues for female identifying participants only.

 

---
Note: Intramural participation will be based on one's self-identified gender. A participant's gender identity will be applied when there are gender-specific rules or player ratio requirements for co-ed divisions. Transgender individuals may play on the team that best matches their gender identity. Nonbinary individuals can play on any team.
Levels of Play
 

Level

Details

 
 
 

Advanced (A)

The highest level of competition in IM Sports. Teams are composed of individuals who are highly skilled and competitive athletes.

 

---

 

Intermediate (B)

The most popular level of competition in IM sports. Teams are composed of individuals that have some experience in the sport.

 

---

 

Novice (C)

This is the most recreational league in IM sports. Participation is more important than player ability. Novice leagues are great for individuals who would like to try a new sport.

 

---