Image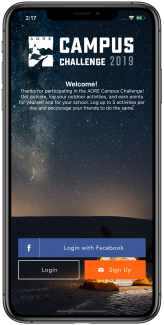 Hiking. Kayaking. Hammocking. Backpacking. Gardening. Bicycling. Walking.
These are just a few of the activities Students, Staff, Faculty, Alumni, Friends, Family and ALL Gaucho Supporters/ Lovers will be participating in from September 16 through October 13 as we compete against over 90 other universities to win the 5th annual Outdoor Recreation Campus Challenge.
Although there are loads of incredible prizes to go around, we have our eyes on the top prize: the title of National Outdoor Champion.
 Activites can take place and be logged from anywhere on planet Earth!
Let's Win This
Get the official AORE app and participate to help UCSB win the title of National Outdoor Champion:
Download the app via the links below.
Create an account and register with "University of California Santa Barbara"
Log your outdoor activities
Win prizes and giveaways!
Win An Osprey Backpack | Now - 9/15
Download the app and pre-register between NOW and Sept 15. Every day during that time period, a pre-registered challenger will be awarded an Osprey backpack. The sooner you register, the more opportunities to win!
Earn Points By Participating And Posting In The Official App
Hosted by the Association of Outdoor Recreation and Education (AORE), the Campus Challenge is a Mother-Nature-meets-March-Madness competition with 98 schools from across the country going head-to-head for four weeks to see who can get the most people outside and active. The school with the most people outdoors wins, and so can you! In addition to prizes, we're competing for:
Registration
Most Outdoorsy
Environmental Champs
Health / Wellness Champs
Outdoors Anywhere Champs
Developing Skills / Personal Growth Champs
Greater Good School
Outdoors Extraordinaire
Longest Time Outside
Regional School Champion
10 Point Activities
Races (adventure / 5 k / track)
Cycling / Mountain Biking
Camping
Caving
Climbing (indoor & outdoor)
Equestrian
Fishing / Hunting
Hiking / Backpacking
Paddle Sports (kayak, SUP, canoe) 
Outdoor Service Projects
Disc Golf
Running
Snowsports
Water activities
Team sports not included.
5 Point Activities
Outdoor clinics / training
Skateboarding / longboarding
Slacklining
Walking
Yoga (outdoors)
Outdoor Work
2 Point Activities
Gardening
Stargazing
Hammocking
Arts / craft / building
Photo fails
Bonus Points | Greater Good Bonus
Group Activities (3 or more challengers) (+5) 
Overnight Activities (+5)
School Organized activities *See Below (+5)
1st, 10th, 25th, 50th activities Logged (+10 each)
Positive Environmental Impacts (+5) | Trail maintenance, trash pick-up, research, planting trees, or following LNT
Health / Wellness (+2)  | cardio workout, stress reduction, forest bathing, or gathering fruits & veggies
Exploring the Outdoors Anywhere (+5) | birdwatching in urban parks, urban gardening, ______
Developing Skills / personal growth (+5) | training for competition, learning or practicing a new skill, or challenging yourself beyond your current comforts
The Fine Print | How To Make Sure Your Activities Get Points
Valid Entries –eligible for point consideration
Activities logged must take place between September 16 -October 13, 2019
Activities must have lasted longer than 30 minutes
Log up to 5 activities per day
The submitted outdoor activities should be of you engaging in the outdoors with the outdoor element being the focus.
The photo uploaded must show you/your group participating in the activity
 Not Valid Entries –not eligible for point consideration
Traditional team sports such as soccer, football, baseball, and basketball do not count as eligible activities.
Landscape pictures (I.e. no one IN the picture)
 Disqualified –will be flagged and removed
Nudity, Pornographic, obscene, profane, defamatory, libelous, threatening, unlawful or other material which could constitute or encourage conduct that would be considered a criminal offence, give rise to civil liability, or otherwise violate any law or regulation.
Any entry that includes obscenities, objectionable material, or defames or invade the publicity or privacy rights of any person living or deceased, will be disqualified.
*School Organized Activities
In an effort to "get outside and play" together (+5 pts group activity) AND bonus "School Organized" (+5 pts), Recreation/ Adventure Programs is coordinating the following 30+ min activities. Click the calendar event for more details.