Image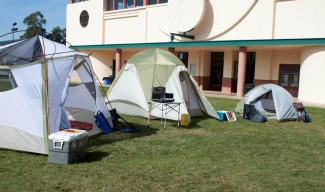 What gear and equipment is available for rent at the Rec Cen Adventure Rental Center?
Osprey 70L-90L Backpack
Mountain Hardware 0 Degree Synthetic Sleeping Bag
Z Lite Ground Pad
NRS Paco Foam Sleeping Pad
Mountain Hardware Tents (2 person, 3 person, 4 person, and 6 person)
Coleman Propane Stove 
MSR Superfly Stove
MSR Reactor Stove
Cookware
Dutch Ovens
Bear Canister
Crazy Creek Long Back Camp Chair
Coleman 60 Quart Extreme Cooler
Coleman 48can Stacker Cooler
Snow Shoes
Eno Hammocks
Gibbon Slackline
What is available for rent at the Campus Point Rental Center?
Surfboard - 8 & 9 foot soft top
Stand-Up Paddle boards (SUP)
Kayaks (Singles and Doubles)
Boogie Boards
Wetsuits (4/3mm)
Prices vary depending on the item and for how long you are renting. A complete price list can be downloaded here: 
Do I need to be a UCSB Student?
Nope! We rent to anyone 18 or older (16 or older for Current UCSB Students)  this includes Community Members, Staff, Faculty, and Students.
Is a deposit required before renting gear or equipment?
Each rental item has a deposit, which is due in full at the time of rental with a credit card or additional check. An ID card is also valid for deposit for Campus Point. Your deposit will be returned when all rental equipment is returned and any late fees, damage and/or wet/dirty fees have been assessed and paid in full. It may take up to one week to assess the damage fees. Campus departments using a recharge will not be required to place a deposit. 
How many items can one person rent at a time?
There is no limit. We allow one person to rent various items or multiple of the same item at once (e.g. an individual can rent more than one tent, stove, etc.). Adventure Pass members are limited to one of each item and can rent additional items at the rental rate.
UCSB Students will be required to present a current UCSB Access Card in order to receive student pricing. All others will be required to present a current government issued ID. A credit card or check is required for a deposit. All renters must sign a UCSB Waiver of Liability, Assumption of Risk & Indemnity Agreement. Waiver Agreements are available at the rental center and online:
What forms of payment do you accept?
Payments can be made with cash, check, Visa, or Mastercard, however, the deposit must be paid with a check only.
How long does it take to rent gear or equipment?
Depending on how many customers we are serving, it can take a short while to complete the process. Renters will also have the opportunity to inspect the gear which is very highly recommended. Therefore, please allow for at least 15-20 minutes or longer.
How long can I keep rental gear?
You are able to rent our gear for weekend or week long intervals for the Adventure Rental Center. Campus Point rents by the hour. Weekends run from Wednesday to Monday, while week intervals are from Monday to Monday or Wednesday to Wednesday. All equipment and gear must be returned on time or subject to late fees.
Do you have any age restrictions?
Renters must be 18 or older. Current UCSB students must be 16 or older.
Anything else I need to know?
Image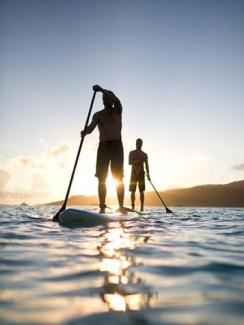 Image