Memorial Day Virtual 5K & 10K Walk/Run
Saturday, May 23 – Monday, May 25
Live Warm-Up on May 23 at 10 am
Instagram (@ucsb_recreation)  |  Facebook page (@UCSBrecreation)
5K For Fun
5K Competitive
10K Competitive
Walk, jog, or run at your own pace or try to beat the clock as you join the Department of Recreation for our first-ever virtual running event! All you have to do is register and track your walk/run. We'll do the rest!
Event Recap
Thank you so much to everyone who participated in iRun with Rec! Here are some of our event highlights.
5K Competitive Best Times
Michael Maniscalco | 19:25
Sarah Innes-Gold | 22:16
Grace Wiley | 23:27
10K Competitive Best Times
Katharine Leigh | 44:27
Douglas Thomas | 45:27
Cody Rzeznik | 45:29
Connor Ding | 47:37
From Our Runners
"This is my first Memorial Day event ever. This is my first 5K event ever. It was an honor for me and my friend to join this event and honor those that have served, those that have fallen, and those families that are sharing their memories with us. My friend and I ran/walked along Cabrillo Blvd./Harbor and it was a perfect day for it. I had thumbs up and cheers from people passing me with the bib on. I will definitely participate in this again. I thank UCSB Recreation for this opportunity!"
"I run regularly around the Goleta area, but it feels great to participate in this activity and run together virtually with other gauchos!"
"This challenge inspired me to start running which I hate. Thanks for providing the pre-training program as it induced me to go for it. Since I started, I bought a pair of running shoes and enjoyed the challenge. Thanks for putting together the virtual run as it got me going on a new activity."
"It was a beautiful morning. I enjoyed being able to participate at my own pace in an environment I love."
Image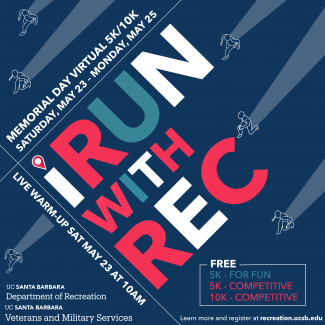 What is a Virtual Run?
Gauchos from across the world will be able to participate in this FREE event. Walk, jog, or run a 5k or 10k from any location. You will use an activity tracking app of your choosing to record and report your results. 

Who can participate?
All UC Santa Barbara students, staff, faculty, alumni, or community members are encouraged to participate. 
 
When is the Virtual Run?
Complete your walk/run and report your results at any point between Saturday, May 23 – Monday, May 25. Join us for a live warm-up at 10 am on Saturday, May 23. The warm-up will be live-streamed on Instagram (@ucsb_recreation) and on Facebook (@UCSBrecreation). If you can't make the livestream, it will be posted for you to tune in when you can!

When is registration open and how can I register?
Registration is open now and continues through the last day of the event.
What are the Divisions?
5k For Fun
This division is for less experienced individuals who aren't watching the clock and just want to have fun! We encourage you to walk, jog, or run at your own pace around your neighborhood or on a trail! Enjoy a series of fun challenges during this event. Winners will be selected from each challenge category to win prizes. 

5k Competitive
This division is for individuals who enjoy running and want the competitive aspect of running. Run inside on the treadmill or outside on a trail. First, second, and third place winners will receive a prize for the best times! 

10k Competitive 
This division is for individuals who run frequently, are skilled, and want the competitive aspect of running. Run inside on the treadmill or outside on a trail. First, second, and third place winners will receive a prize for the best times!

Will there be prizes?!
Yes! But not just for the fastest times! There will be several unique and fun challenges to give participants in the 5k For Fun walk/run a chance to win a prize such as a free Group Fitness pass, Personal Training session, Massage, etc. Prizes will be available when the Recreation Center re-opens. Every participant will receive a digital completion certificate. 

I've registered! Now what?
All registered participants will receive a virtual "race packet" via email on Thursday, May 21 with detailed information on how to report times, a list of challenges, and more information. 

Follow @ucsb_recreation on Facebook and Instagram for inspiration and daily 5 minutes of Recreation activities/challenges. 

Download a running app to help you record your times, distance, and progress. Below is a list of suggestions, but use any app you are comfortable with!

No Training? No Problem! We Gaucho Back!
UCSB Recreation currently offers online Group Fitness classes, live through Zoom! Head to Shoreline (shoreline.ucsb.edu) to join our Get up Gauchos! Classes to supplement your training program. 

Our Fitness and Wellness team has created a training plan for 5k beginners. Check it out!
Image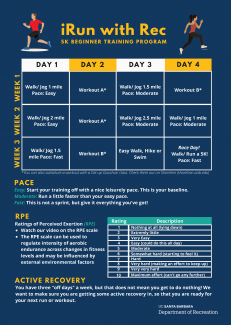 Image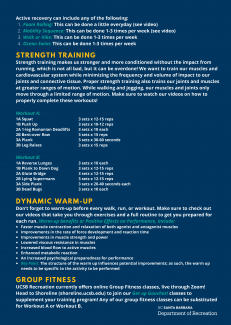 iRun with Rec  |  Training Program