Image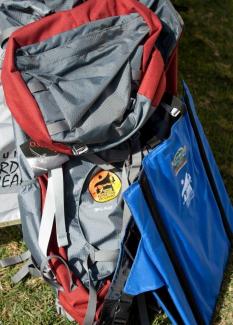 UCSB Adventure Programs is proud to offer the Adventure Rental Center in the Recreation Center courtyard, the Campus Point Rental Center down at the beach, and the Adventure Climbing Center in the Rec Cen MAC. We carry quality brands such as MSR, Mountain Hardware, and Osprey, and rent them at a great low-rate.

The Adventure Pass is UCSB's "Netflix" for adventure. Get 12 months of UNLIMITED rentals for only $59/ $199 (UCSB Students/ Everyone Else). Scroll below for all the details...

Everything is available to UCSB students, staff, faculty, and community members. You must be 18 or older or a current UCSB student to rent.

Make sure to thoroughly read all the relevant information in the Rental FAQs and "Downloads & Details" section below. 
Outdoor Gear Rentals
Check out the video to learn more about outdoor gear and beach rentals with Adventure Program. You can rent gear individually each time you go out or sign up for an Adventure pass, which gives you unlimited personal access to one of each item we rent out here, at our Campus Point Beach Rentals, and to climbing gear at our rock wall for only $59 a year.
Adventure Rental Center and Campus Point Rental Center
Adventure Rental Center (Rec Cen) Summer Hours - No Reservations Necessary
Monday, Tuesday, Thursday, & Friday  |  3 - 6 pm
Wednesday, Saturday, & Sunday  |  Closed
If you cannot come during the above hour's email mbouchet@ucsb.edu 
Campus Point Rental Center Hours - No Reservations Necessary
Monday — Wednesday  |  Closed
Thursday & Friday  |  3 – 6 pm
Saturday & Sunday  |  10 am – 6 pm
*All equipment must be rented by 6 pm and returned by 7 pm
September 13 - 19 | Closed
Access Requirements
Without exception all participants will be required to:
Wear a face covering (without a one-way valve) when not on the water
Practice 6 feet of physical distancing
Present a current Green Badge from the UCSB Daily COVID-19 Screening Survey.*
*Note: for undergrad students to get a Green Badge, you MUST have had a COVID-19 test within the last 7 days from one of the on-campus testing sites. 
Campus Point Closures & More Information
We're closed during inclement weather (if it rains that day or night before, we may be closed up to 72 hours to prevent bacteria exposure due to storm run-off).  Ocean winds may close us down periodically for safety issues. 
Check Campus Point Webcam for Current Conditions. If the Rentals Sign is out/ visible, we're open! 
For other questions about Campus Point Rentals call us during open hours at (805) 699-0803.
The Adventure Pass – Unlimited Rentals For An Entire Year!
Let UCSB Adventure Programs take care of all the equipment and have it ready for your next trip or afternoon at the beach. All you do is show up, check in, then go play. You'll have unlimited rentals for yourself to all gear and equipment from the:  
Adventure Rental Center (Trips, Camping & Backpacking)
Campus Point Rental Center (Ocean Sports, Kayaking, Surfing, SUP)
Adventure Climbing Center Rentals (Climbing Shoes & Harnesses)
Cost is only $59/ $199 (UCSB Students/ Non-Students) for a full calendar year.
Please thoroughly read the Rental FAQs and Adventure Pass Details and Requirements in the downloads section below. Rental availability is subject to below hours and closures.

Sign up in person at the Customer Service Center.
Image