Sunday, May 6  |  11am-2pm  |  UCSB Rec Cen Pool
What is Gauchos Swim with Mike?
Gauchos Swim With Mike is an annual swim-a-thon held to raise money for the Physically Challenged Athletes Scholarship Fund. UCSB is one of many universities and colleges that is holding a fundraising swim-a-thon and pool party.
Who does Gauchos Swim with Mike Benefit?
UCSB is home to two scholarship recipients. 
Image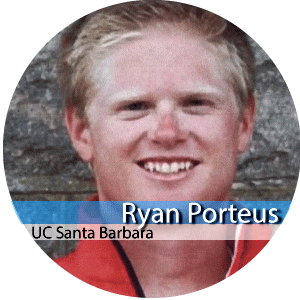 Ryan Porteous - Mechanical Engineering - Class of 2018
 
Ryan Porteous of San Diego, CA is a Mechanical Engineering Major expecting to graduate from UC Santa Barbara in 2018.  In 2011, just two weeks into his freshman year, Ryan slipped on a boat dock and broke his neck at the C-6 level, leaving him partially paralyzed from the neck down. The rehabilitation process has been strenuous, but he's slowly recovered some movement in his legs, enabling him to stand and walk with support. With the Swim with Mike scholarship, Ryan was able to return to UCSB and continue his studies as well as his athletic career. Using adaptive equipment, Ryan continues to exercise, surf, ski, swim and has returned to competitive sailing, even making the United States National Sailing Team as a skipper. This past summer Ryan represented the United States in sailing, taking 5th at the 2016 Paralympic Games in Rio de Janeiro, Brazil.  Ryan is currently a member of the UCSB Triathlon Team and has found a new love for wheelchair rugby.
Image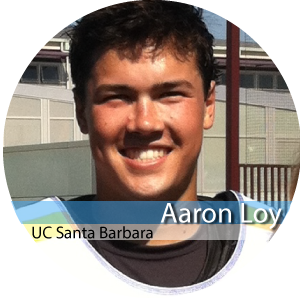 Aaron Loy - Economics - Class of 2018
 
Aaron Loy of Carlsbad, CA is a 3rd year Econ Major and TMP student expecting to graduate from UC Santa Barbara in June of 2018. After a successful high school athletics career, Aaron chose to attend UC Santa Barbara because of their excellent Lacrosse Club as well as the academic reputation. Following his first set of midterm exams Freshman year, Aaron contracted Meningitis B, which led to multiple health complications and eventually the amputation of both of his legs below the knee.  Aaron has endured more than thirteen surgeries since his illness and nearly died.  After learning to walk with two prosthetic legs, Aaron returned to UCSB determined to not let his tragedy define or alter his way of life. He continues to be resilient, adventurous, and active.  In the quest to return to athletic participation, he discovered a passion for sled hockey.  He currently plays sled hockey for the San Diego Ducks. He recently played with the US National team during their visit to Goleta's Ice in Paradise, where he is beginning to work as an ambassador for the sport.  With Aaron's help, Ice in Paradise plans to launch a sled hockey program for which the rink was designed to accommodate – they have the sleds; now they need the players!
History
The UCSB Gauchos Swim with Mike event started in 2015. 
Swim with Mike is a scholarship foundation that provides financial resources for advanced education that paves the way for physically challenged athletes to overcome their tragedies and realize their full potential.
The Swim was originally founded in 1981 as one-time event organized by friends and teammates on behalf of Mike Nyeholt, a three time All-American swimmer, who was paralyzed from the chest down following a motorcycle accident suffered in January of 1981.
Excess funds from the event funds were used to create the Physically Challenged Athletes Scholarship Fund at the University of Southern California, the only one of its kind in the country.
Over $18.8 million has been raised since inception.
The program supports 199 college scholarships across 60 different sports at 97 different schools and universities.