Image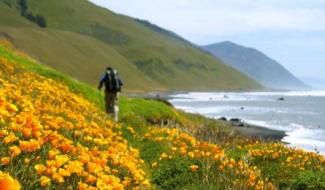 Image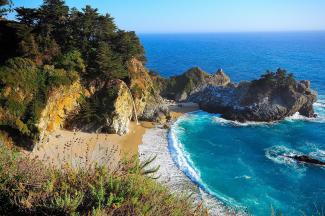 Image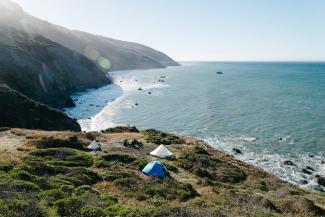 Image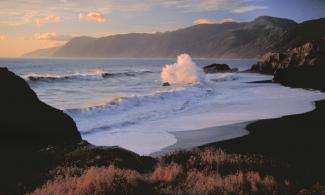 From Santa Barbara to the Northern California Coastline, come explore with us gorgeous coastal beaches, scenic redwood forests and unique seaside splendors! The Coastal Camping Adventure keeps the ocean on our side! We are on the road to Big Sur, Point Reyes and the Lost Coast Trail! Come join us for camping, hiking, backpacking, beaches, forests, coastal mountains and fun along the California seashore!
We are fortunate to have received one of the few permits issued for this time of the year. The permit allows us to hike and camp on the remote Lost Coast of northern California for four consecutive days.
The group leaves UCSB and drives to Big Sur. We spend the next two days travelling part way while camping one night at Point Reyes and one night in the Humbolt Redwood state park. Then we drop into the Lost Coast in the Kings Range Conservation Area for the next 4 days and nights of backpacking and camping on the beach and coastal cliffs. Our drive home gives us another overnight camping in Big Sur!
Itineraries are always tentative, weather permitting, participation is cooperative!
The fee includes round-trip transportation, breakfasts and dinners while camping, camping fees, permit fees and group equipment. You must supply your own lunches, $ for road meals, and personal equipment (including sleeping bag, pad, backpack, tent - rentals are available while supplies last.)
Prerequisite: The hike down the remote Northern California coast is moderately strenuous, especially with the weight of a backpack. Participants must be in good physical condition and previous backpacking experience is very highly recommended.
To be placed on the waitlist for any of our full trips or classes please email donald.wise@recreation.ucsb.edu
Be sure to include
The exact name and date of the trip or class for which you would like to be waitlisted
Your Name
Your contact info including email and phone
Click here for dates, cost, & registration! 
Downloads        
Please Download, Fill Out, and Turn In: