Welcome to the UCSB Climbing Team
University of Crushing Sandstone Boulders
Image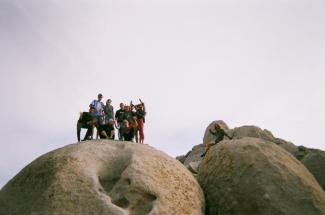 About The Team
The Climbing Team was created in 2014 by a group of avid climbers attending UCSB. Thanks to the collaboration with UCSB Adventure Programs, we have evolved from a small community of climbers to a full-fledged team. The Climbing Team's purpose is to provide a healthy environment for novices and experienced climbers alike - whether they prefer friendly, indoor competition or long weekends spent in any of California's world-class climbing destinations. By joining the climbing team, members join a community of like-minded individuals who are psyched on improving their climbing ability. For beginners, we will make you strong, and for all others, we will make you even stronger.
Team Practice Times in Robertson Gym 2120
Mondays 9–11pm
Tuesdays 1–3pm
Wednesdays 9–11pm
Thursdays 4–7pm
Competition Schedule
October 26th, Robertson Gym
November 23rd, Robertson Gym
Image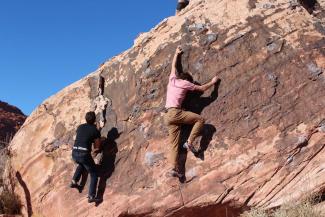 Benefits
Two Climbing Walls
As the climbing team we will be training at both the Adventure Climbing Center (located in the Recreation Center) and Robertson Gym. Be stoked to climb on one of the largest imprint walls along the West Coast and on having exclusive access to the Rob Gym rock wall.
Competitions
Competitions are a great way to test how far you have improved and, most importantly, to have fun. The climbing team hosts in-house competitions each quarter at our own Rob Gym. The team also competes in the Collegiate Climbing Series (CCS) organized by USA Climbing. Competitions are not mandatory, but are highly encouraged and act as a great way to bond with fellow team members.
Check out the CCS website here.
The Great Outdoors
California is the host to many world-class climbing destinations: Bishop, Joshua Tree, Black Mountain, Yosemite, etc. What's great about being in UCSB is that we are in the middle of it all. What's even better? The Los Padres mountains just north of campus are full of climbing, all within half an hour's drive!! The team organizes regular outings to get team members into the great outdoors.
Other Perks
Pro Deals,  Lead and Top Rope Belay clinics, Free harness rentals and staff discounts on shoes at the Adventure Climbing Center.
Frequently Asked Questions