Fun & Fitness Festival Goes Virtual!
Wednesday, September 30, 2020
10am-4pm
The annual Fun & Fitness Festival is going virtual! We're bringing this action packed, Week of Welcome tradition to you! Join Recreation for 50+ unique sessions including live fitness classes, e-sports and adventure demos, program and facility info sessions, employment sessions, sport club meet and greets, and more! This showcase event is FREE and open to all UCSB students, staff, and faculty! Whether you are a first year student who is new to campus, a returning student who hasn't explored all that Recreation has to offer, or a curious staff or faculty member, we invite you to "Find Your Fit" and join in on the fun! Register on Shoreline.ucsb.edu!
The Fun & Fitness Festival is the UCSB Department of Recreation's annual showcase event that takes place during UCSB's Week of Welcome every Fall quarter of the new academic year. The festival showcases the variety of classes and activities that Recreation offers including FREE fitness, sport and adventure demos. Information and sign ups are available for Intramural Sports, Sports Clubs and Athletic Training. Participants also enjoy live performances, games, giveaways from our sponsors and more!
Image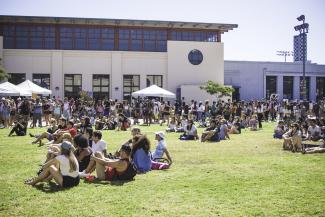 Fun and Fitness Festival has been one of the most popular events on campus since the first time it was held in 1993. Over 6,000 students, faculty, and community members attend each year! Join us this year for the fun which includes: