Image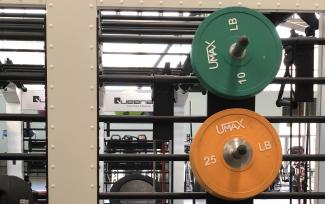 If you are UCSB Faculty or Staff and eager to get out of the office, we offer lunchtime classes that will get you moving and staying active! The Fit For Life and L.I.F.E Circuit classes mix cardio and strength exercises for a full body workout.

Register

 
Fit for Life
Fit for Life classes are led by our nationally-certified fitness instructor. The program is designed specially for the needs of campus employees. Learn how to recognize existing imbalances in your body and corrective exercise strategies as you train! Classes include intermediate to advanced level strength, cardiovascular, core, and flexibility training.
L.I.F.E. Circuit Class
This new class focuses on strength and cardiovascular combinations utilizing resistance and cardiovascular machines. Take this great opportunity to learn how to use each machine with the guidance of a nationally-certified personal trainer.
Equipment availability varies upon location.
L.I.F.E./Fit for Life All Access Combo
Is your back sore? Are you out of shape? Or do just want to keep up with life? Take the leap towards wellness and fitness with the Fit for Life/LIFE All Access Combo! ! This package is designed to not only get you fit and healthy, but our nationally certified personal trainers and post-rehab specialists will also work on your postural imbalances to reduce those everyday aches and pains so you can feel at your best at work and play. Classes include strength, cardiovascular, core and flexibility training with all of the latest and state-of-the-art fitness equipment. This reduced cost program is subsidized exclusively for UCSB Faculty and Staff. This awesome deal is sure to get you on the right path to a healthier new you!
Equipment availability varies upon location.